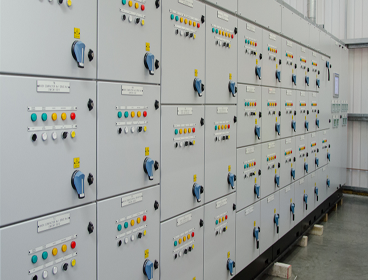 Motor Control Centres
We offer an extensive range of MCC Panel (Motor Control Center) that is a device used to control and actualize the performance of an electric motor. The MCC Panels are extensively used for reducing start voltage, reverse control, speed variation & for protection against overloads and faults. Our company offers optimum quality Motor Control Center (MCC) that is used with motors to protect against short circuits and overloads. Manufactured using the finest raw materials, these Motor Control Centers are widely used in various electronic applications. Modular design of our motor control centers are designed to deliver dependable service for years. It comprises of industry-leading solutions such as smart components, network communications and compact AC variable frequency drives, our motor control centers are widely accepted across industries. These MCC Panels are offered in a wide variety such as compartmentalized with ACB/ MCCB SFU, DOL or Star Delta Starters. This range of MCC Panels can be fully drawn out with incoming and outgoing feeders or non-draw out type.
Production specification

Technical specification

Salient Features 
A contactor or a solid-state motor controller
Overload relays to protect the motor
Control transformers
Pilot lamps
Control switches
Extra control terminal blocks
Bi-metal and solid-state overload protection relays
Power fuses
A circuit breaker to provide short-circuit protection
A disconnecting switch to isolate the motor circuit
Three-phase power through separable connectors
The motor is wired to terminals in the controller
Motor control centers provide wire ways for field control and power cables
Operational Current- 4000 A
Operational Voltage- 415 V
Rated Insulation Voltage- 690 V
Ambient Temperature- 45 Deg. C
Degree of Protection- IP:54
Configuration-Fixed & Draw out
Control center can be single or double front operated
Floor mounted design
Automatic/ manual means of starting and stopping the motor
Fully drawn out with incoming and outgoing feeders or non-draw out type
MS Sheet with PU Paint / Powder-coated.
Cable entry up / down as per requirement.
Copper / Aluminum bus bar with P.V.C shrinkage sleeve.
Separate door for each section.