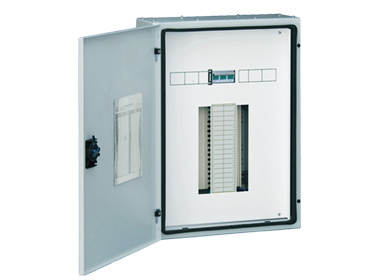 Distribution Boards and Distribution boxes for residential buildings and housing societies
We manufacture high quality distribution board's distribution boxes and MCB boxes for domestic and industrial purposes. We bring forth a wide range of Power Distribution Panels that is an electricity supply system. For industrial purposes the Power Distribution Panel divide electric power feed into several circuits and can be availed with MCCB / SFU /MCB. For domestic requirements such as residential buildings and housing societies these Distribution boards/boxes can be fitted with energy meter from supply company(such as TATA Power, BSES, NDPL etc.) , MCB'S for distribution, ELCB's, main switch of the entire building and provision of generator, invertor and UPS connection. The Power Distribution Panels are fully equipped with all necessary safety precautions.
Attributes

Salient Features
Durable finish standards
Heat resistant
Corrosion resistant
Sturdy construction
Energy efficient
Proper section of Bus bar & wires.
Available with Single / Double door design.
Cable entry up/down as per requirement.
Sleeved bus bars to prevent corrosion.
Made from 14 / 16 gauge MS sheet as per requirement.
MS Sheet with PU Paint / Powder-coated.
Easy to install.
Bakelite sheet for meter mounting.
MCB strip for MCB and ELCB mounting.