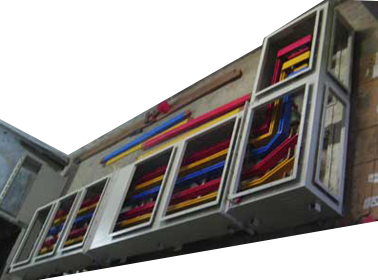 Bus Ducts and Rising Mains
Bus duct is used for the effective and efficient supply of electricity in mostly industrial locations. Copper or aluminum is used for the conductor of bus duct that be insulated and enclosed completely for protection against mechanical damage and dust accumulation. A bus duct system is an effective method of distributing power to your switchgear and various loads. However, bus duct problems can lead to catastrophic damage and extensive downtime. We offer a wide range of durable Bus Duct that comes complete with CRCA /Stainless Steel / Aluminum enclosures for ensuring their safety from any wear and tear. Our array of Bus Duct systems are type tested with Erection & Commissioning services. We hold the expertise in design, engineering and manufacturing of various types of bus ducts with a range up to 6300 ampere. Our Bus Ducts are available in both Aluminum and Bus as per requirements and mostly custom built suitable to layout, Site conditions and Application. Our bus ducts are available with accessories required such as flexible joints to easily connect transformer terminals or D. G. Terminals.
Attributes

Medium Voltage (MV) Busducts

Low Voltage (LV) Busducts

Key features
Supported on SMC /DMC / FRP supports
Equipped with adopter box at both the ends
Flexible jumpers
Rated service voltage:12~17.5kV
Rated frequency: 50/60 Hz
Rated power frequency withstand voltage: 28/38kV
Rated impulse withstand voltage: 75/95 kVp
Normal current rating: 630/1250/2000/2500/3150A
Rated service voltage: 415V /690V
Rated frequency: 50/60 Hz
Rated power frequency withstand voltage: 2000V
Busbar system: TPN-E
Normal current rating: up to6300A
Short time withstand current : up to 80kA 1 second
Configuration – 3ph 3 wires; 3ph 4 wire (100% /200% neutral); 3ph 5 wire (100% neutral – ½ Earth)
Aluminum or Copper or 100% neutral –Full Earth Aluminum or copper.
Copper and Aluminum busbar options
Insulation Class E and H (Epoxy)
Outdoor application option
Easy installation